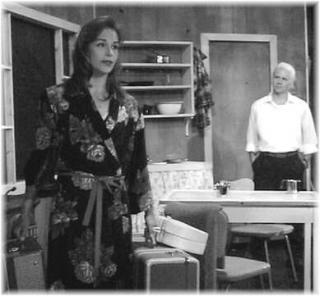 "I worked with Rick on a premiere production of mine called, 'Storm Warning'. Rick directed this production and I found his work to be outstanding. Directing the first production of a play is a daunting task because there are no signposts left behind by those who have directed it before. The director of a premiere production must work very closely with the playwright, giving the playwright suggestions and insight into what is working and not working within the piece. And at the same time, the director must be certain that the playwright's vision comes to life on the stage.
I found Rick's interaction with myself and the actors to be inspiring and thoughtful, and the quality of his work gave me a finished product I could be proud of."
Tracey Hway & Daniel McCarthy in
The Bluewater Summer Playhouse
production of "Storm Warning".

Norm Foster
Canadian Playwright
Rick also premiered Norm Foster's "The Great Kooshog Lake Hollis McCauley Fishing Derby".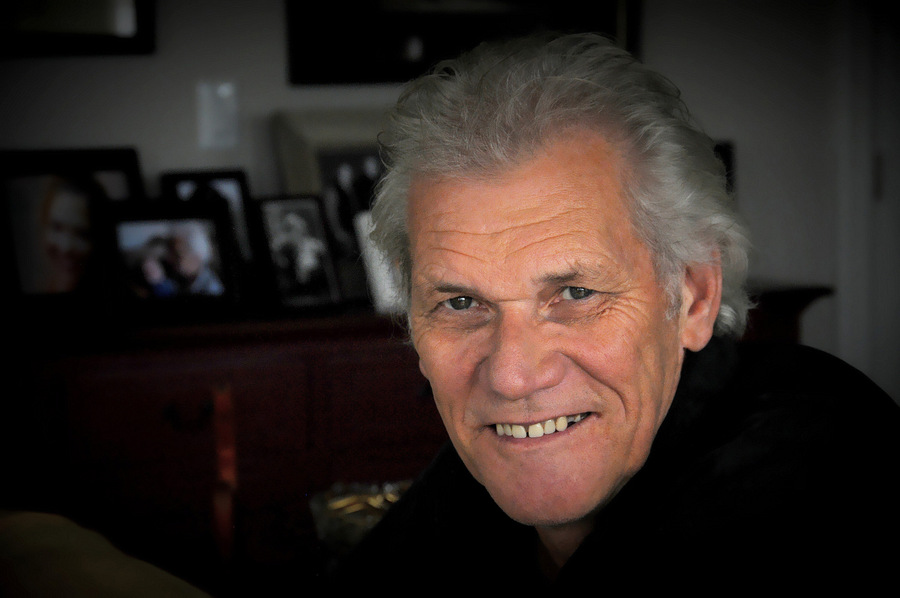 ...as a director
...because my wife and I were so impressed with "Mary's Wedding" I wanted you to know how courageous we thought you were to put it on in a summer theatre (Bluewater Summer Playhouse), where I'm sure you have to do a fair amount of light stuff! It was so well acted, directed and designed and we really enjoyed our visit!
John Neville
Actor / Director / Artistic Director
(2 May 1925 – 19 November 2011)

You are the perfect actors' director. You think out loud which enables us to see exactly where you and we are going. You have a perfect eye and ear, a superb sense of every aspect of theatre. I have never worked with a more talented, tactful, skillful, and actor friendly director. You cast and then work with what you've got. You provided us with a perfectly safe environment in which we could do anything we wanted knowing we could trust you to keep us informed about what we did well and what we did not do so well. You are a dream to work with and you put together a dream team (both on and off stage). I thank you so much. I can't say enuff good things about you!!


John Turner
Actor - The Great Kooshog Lake Hollis McCauley Fishing Derby - Premiere Production
Actor - You'll Get Used To It! THE WAR SHOW
...as a teacher
I have been training with Rick for almost a decade in vocal and acting. Rick has and always will be a trusted mentor of mine. He has helped me grow immensely through my artistic and professional journey. He has provided a safe space where risk taking is celebrated and encouraged. I accredit much of my success to the work I have done with Rick and the support he has offered. I would not be the artist I am today if it were not for the time I have spent learning from Rick!


Adrianna DiLiello
Actor, Emmy nominated "Annedroids" as Shania. Also played Lithpy in the cult favorite "Stage Fright" with Meat Loaf and Minnie Driver, Jenna in Family Channel's/Disney's, "Backstage" and Chelsea in Universal Kids and DHX's, "Bajillionaires
Currently attending, NYU Tisch Drama Class of '24
What you have given these young artists is above and beyond. You have this incredible knack for getting the best out of everyone you work with and I believe that is because of how open and approachable you are and that's not even including the wealth of knowledge you provide! In the Wings and I are very lucky to have such a talent as yourself!
Stephen Cota
In The Wings - Online Musical Theatre Training
I have had the pleasure of working with Rick Kish in many capacities. I have found in that time that Rick is deceivingly impressive. As well as being an extremely talented singer, he is equally as brilliant in acting, directing, and running a theatre company. It is difficult to find such an experienced performer offering lessons, and it was so nice to have a teacher with so much experience in the business. But the great thing about Rick is he genuinely cares about each individual student. When I first came to him, I was sure I wanted to go into theatre performance, but as I progressed I realized I really wanted to go into production. Rick not only supported me in that decision, he provided me with as many opportunities as possible in production. He helped me gain contacts, professional experience, and attend The National Theatre School of Canada located in Montreal, Quebec for theatre production. Rick gives you personalized, practical training in a difficult field, which is rare to find and exceedingly valuable. I am incredibly glad I got to work with him

Cosette Pin
Graduate of the Technical Theatre Program at The National Theatre School of Canada (NTS) & Working Professional
Rick was a fantastic mentor while I was deciding to pursue a career in musical theatre. His positive, enthusiastic approach to teaching helped me build confidence while finding my voice.


Jonathan Gysbers
Working actor across Canada. Magnus Theatre, ON, The Guild Theatre, PEI, The Grand Theatre, London, ON
Rick, you have been an invaluable resource for me. Even after moving away, I continue to value your knowledge and experience and love to come back for lessons whenever I can. Your positivity and love for the work inspires me in every session. The passion and determination you have has greatly inspired the way I work. Thank you for all of your time whether it be hammering out notes or watching the same four lines of a monologue over and over. Your patience and knowledge has been integral to the actor and singer I am becoming. I look forward to working with you for years to come.


Andrea Meister
Actor, Toronto , ON, Canada
Graduate, BFA Acting University of Windsor School of Dramatic Art
...as a teacher
My daughter, Adrianna Di Liello has been working with Rick since the age of 9 with a focus on vocal and acting coaching. The training she receives from Rick has helped her feel confident in auditions and professional settings. We are grateful to have had Rick mentor Adrianna through her early experiences on professional film and television sets. Rick's generous manner has helped nurture her creativity and her ability to take risks as a performer. He is a mentor as well as a coach and has helped Adrianna make choices in her very young career that have led to wonderful opportunities. Rick has been a trusted guide and teacher along her journey.
Maria Luisa Contursi
Adrianna DiLiello's Mother
...as a performer
Great gig last night with Fifth of Jazz!
Thanks to guest vocalist Rick Kish for such a great job singing!!! One of the most engaging and skilled frontmen I've ever played with!
Joe Piotrowski
Founder and Guitarist - Fifth of Jazz
You have an amazing performing presence: I don't know of any other performer who has the special quality that I see in you. It's very unique and purely authentic like I know exactly who I am, I'm rock solid, and nothing can ever break me, kind of energy! It feels very solid, earthy, grounded, & confident. When we hear you/see you on stage, you make us all feel that everything is always going to be ok. You help us feel an incredible confidence in life, that we can trust in the whole process. And then there is your beautiful voice on top of all that energy. So thank-you for exuding this very grounded energy to all of us.

I feel privileged to have met you.
Carla Rose Kelly

Playwright and composer